Get Started
This course is currently closed
100-Day Ancient Secrets Training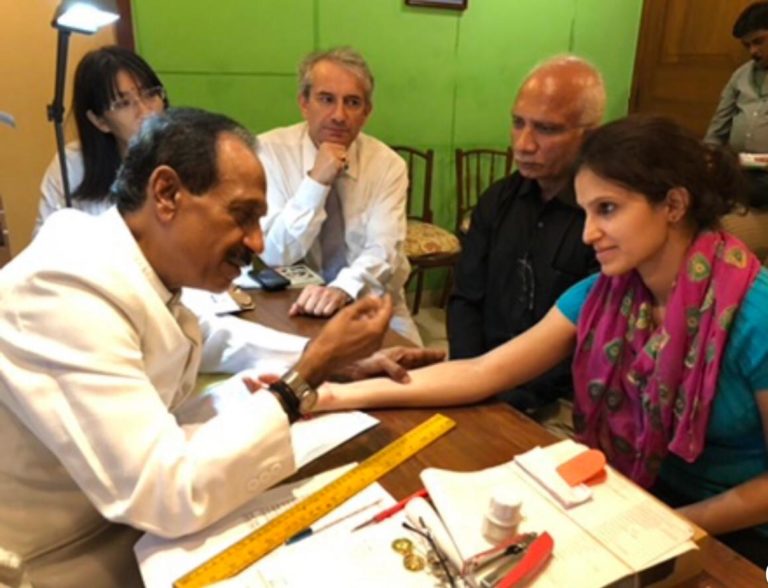 Welcome to a modernized version of the 100-Day Training that Dr. Naram himself had to go through when he first started his healing work with his master Baba Ramdas!
Here is what you will gain during this life transforming 100-day training experience!
Is this for You? Who is this 100-day training course for?
This experience isn't for everyone, as it is not your typical training course. It's not just about information — it's about transformation. And sometimes the process of transformation can be challenging, and other times thrilling. Anyone can learn it, you just have to come with a willing mind, an open heart, and a big desire to be of service on this planet.
Moms, Dads, Grandmas, even kids & any ordinary people who want to know how to better take care of themselves and those they love.
Doctors, nurses, chiropractors, yoga instructors, holistic physicians, or any healthcare and wellness practitioners who want to increase their tool kit and expand their capacity as a healer.
You, who are not practitioners YET, but feel a calling to become a healer and help others.
For 100-days (14 weeks) you'll discover and apply specific ancient healing secrets in your own life, as best you can, wherever you are in the world.
Every week (on Saturday & Sunday) you'll join a live 1-1.5 hour training call via zoom (which will be recorded for the occasional week you're unable to attend).
Once a week you'll complete a challenge assignment that will help move you from knowing to doing to being. Once a month you'll attend a "House Meeting."
You'll come with an open heart, a curious mind, and a willingness to go beyond anything you previously thought you 'knew'.
You'll have an

attitude of loving yourself and others

, sharing the best of who you are, and participating fully.
You'll be ready for awe, fun, and depth, within a global community of remarkable people.
| Event Date/Time | Event Description | Event Access Information |
| --- | --- | --- |
| January 16. 2021 8 AM Pacific | Week 1 First Day of Training! | |
| January 17. 2021 8 AM Pacific | Week 1 Sunday Inspiration Call | |
| January 23. 2021 8 AM Pacific | Week 2 Saturday Training Call | |
| January 24. 2021 8 AM Pacific | Week 2 Sunday Inspiration Call | |
| January 30. 2021 8 AM Pacific | Week 3 Saturday Training Call | |
| January 31. 2021 8 AM Pacific | Week 3 Sunday Inspiration Call | |
| February 6. 2021 8 AM Pacific | Week 4 Saturday Training Call | |
| February 7. 2021 8 AM Pacific | Week 4 Sunday Inspiration Call | |
| February 13. 2021 8 AM Pacific | Week 5 Saturday Training Call | |
| February 14. 2021 8 AM Pacific | Week 5 Sunday Inspiration Call | |
| February 20. 2021 8 AM Pacific | Week 6 Saturday Training Call | |
| February 21. 2021 8 AM Pacific | Week 6 Sunday Inspiration Call | |
| February 27. 2021 8 AM Pacific | Week 7 Saturday Training Call | |
| February 28. 2021 8 AM Pacific | Week 7 Sunday Inspiration Call | |
| March 6. 2021 8 AM Pacific | Week 8 Saturday Training Call | |
| March 7. 2021 8 AM Pacific | Week 8 Sunday Inspiration Call | |
| March 13. 2021 8 AM Pacific | Week 9 Saturday Training Call | |
| March 14. 2021 8 AM Pacific | Week 9 Sunday Inspiration Call | |
| March 20. 2021 8 AM Pacific | Week 10 Saturday Training Call | |
| March 21. 2021 8 AM Pacific | Week 10 Sunday Inspiration Call | |
| March 27. 2021 8 AM Pacific | Week 11 Saturday Training Call | |
| March 28. 2021 8 AM Pacific | Week 11 Sunday Inspiration Call | |
| April 3. 2021 8 AM Pacific | Week 12 Saturday Training Call | |
| April 4. 2021 8 AM Pacific | Week 12 Sunday Inspiration Call | |
| April 10. 2021 8 AM Pacific | Week 13 Saturday Training Call | |
| April 11. 2021 8 AM Pacific | Week 13 Sunday Inspiration Call | |
| April 17. 2021 8 AM Pacific | Week 14 Saturday Training Call | |
| April 18. 2021 8 AM Pacific | Week 14 Sunday Inspiration Call | |