Greetings dear one! While we strive to make sure your experience is as easy and problem-free as possible, life happens and sometimes has a mind of its own.
Below you will find information, instructional text and videos to walk you through how to solve the most common problems and questions.
100-Days Self Paced Course Walkthrough
ASN Tech Tips - How to complete all lessons, topics and print your certificate!
ASN Tech Tips - How to ensure you've completed all lessons and topics! Plus a walk through of your ability to print a certification from the comfort of your own home!
How to view your self-assessment/quiz results!
Under Your Profile, scroll down and expand the course. You will find all quizzes you've taken there. Click on the document icon under the Statistics column to see your results.
Below is a quick video showing you the same steps as above in detail!
How to edit and save your Weekly Student Workbook PDF!
Watch this succinct video walkthrough on how to edit and save your weekly workbooks PDFs:
Where to find your Training and Challenge Activity Info
As a reminder, for the 100-Day Training Course, each week a new lesson opens up and within each lesson there are 3 topics that need to be completed: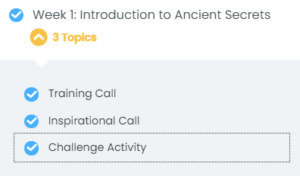 Within the Training Call and Challenge Activity topics there is also a "Materials" tab you will want to access for the associated documents and items for that topic:
Every modern website uses what is called "cookies" to track user logins and activity on the website. Our learning portal is no different! Each lesson and topic you complete requires cookies to track and ensure everything is recorded.
If you are finding that lessons, topics or quizzes are not saving as expected, the first step is to ensure you have enabled the use of cookies in your browser. >>>Click here for instructions on how to make sure cookies are turned on in your browser!<<<
How to change your email, password and profile image!
A quick walkthrough video on how to change your email, password and profile image by editing your profile:
How do I book a consultation with an Ayushakti doctor?
How to mention and notify someone in the chat forum!
Greetings all! I hope you enjoy this <5 minute walk through video showing how to use the @mention feature of the forum so that you can specify your house mentors, guides and fellow participants on topics as you post and reply!
How to easily view other people's forum posts